All of our business card templates offered in our Real Estate Marketing and QuantumPostcard systems are guaranteed to produce the highest quality image for your business needs.
However, if you find it necessary to (or just want to) create and upload your own custom artwork, here are a few guidelines that can ensure that your final business card looks just as good as one of our own professionally designed templates.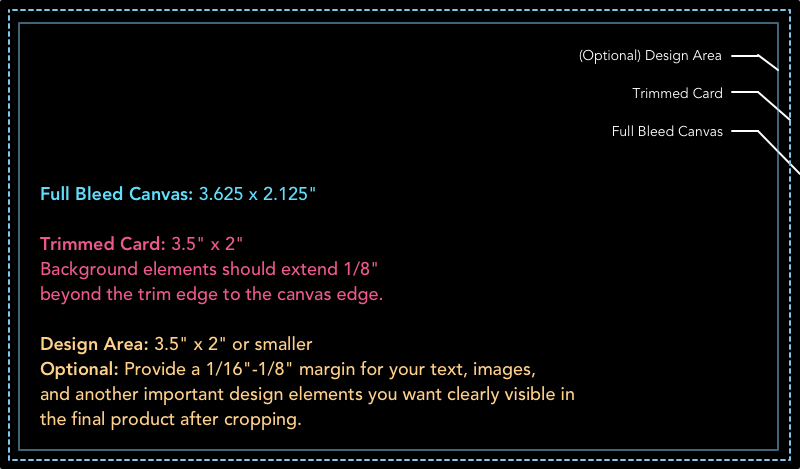 Standard Business Card Size Specifications
Regardless of whether you're going with landscape or portrait orientation, standard business cards are 3.5" x 2". But when creating the layout in your design software, make sure to start out with a work space of 3.625" x 2.125". This extra eighth of an inch is a cropping allowance that ensures your text and logo are fully visible after the final cut.
Business Card Image Resolution
Make sure that the resolution for your image is at 300dpi. High resolution artwork will result in a professional-quality printed business card with no blank areas.  Anything lower can affect the quality of the final product.
In addition, any image files you upload into your design should also be a minimum resolution of 300dpi. Images with a lower resolution could wind up looking grainy or fuzzy in the final product.
Download one of our free templates to help ensure your business cards are within the above guidelines.
Business Card Format File Types
After completing your design, you'll want to make sure that you save or export the image to the appropriate format required by the printer. QuantumDigital's system accepts the following file types for upload:
When you're ready to print your new business cards, sign up for a free account to get started. You'll get 24 hour printing turn around and our WOW guarantee.