All of the postcard templates offered in our Real Estate Direct Mail and QuantumPostcard systems are in accordance with USPS postcard guidelines.
However, if you need to create and upload your own custom artwork, there are some strict USPS Postcard Regulations that you'll want to be aware of. Here are the comprehensive guidelines for designing your own postcards.
In addition, we offer free, downloadable standard postcard sized templates for your team to use for this process on this page.
USPS Postcard Sizes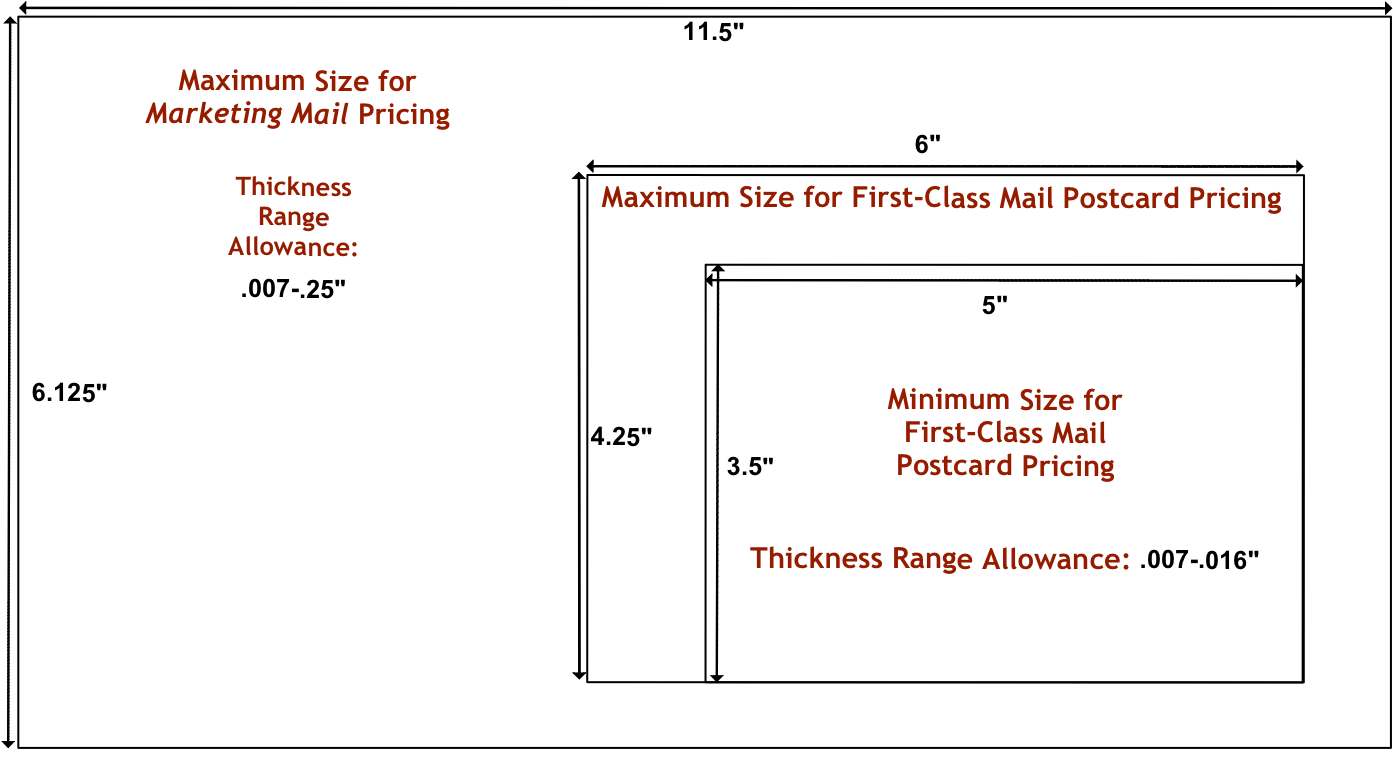 To get the low-cost First-Class Mail postcard pricing from the USPS, size matters. The size of your postcards should be between 3.5-4.25" high, 5-6" long, and .007-.016" thick.
 
If your mail pieces are larger than the First-Class mail allowance, you may still qualify for USPS Marketing Mail. These should be no larger than 6.125" high, 11.5" long, and .25" thick

Anything larger than that will get pushed to the higher Large Flat rate. If you must go with a larger piece, you may want to consider folding your flat-sized piece to qualify for the Marketing Mail or First-Class Mail postcard pricing.

If you do fold your card, make sure to check the thickness of the folded piece to ensure it's within the USPS's guidelines and seal the open edges either with glue or tabs to prevent jamming in USPS machines.
Postcard Layout
When creating the image in your design software, make sure to use 300dpi. This makes sure your final artwork will result in a professional-quality printed postcard with no blank areas.
 
Include margin and cropping allowances. In the example image below, you'll see these as "Trimmed Card" and "Full Bleed" lines. By doing this, you'll make sure your message is fully visible after the final cut.
 

Add a .125" bleed beyond the actual edge of the postcard size all the way around.
Keep any important images and messages in the design area  .25" in from the trimmed card.
Note in the example image: to create an 8.5" x 5.5" jumbo sized finished postcard, create your artwork canvas at 8.75" x 5.75" to allow for the bleed area when uploading.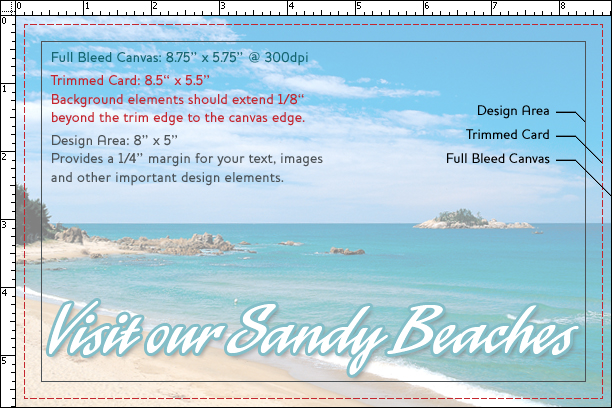 Other Tips
Use square corners for postcards going through the US Postal Service. The Post Office will not accept postcards for mailing if finished corners exceed a radius of 1/8". Anything larger will get rejected because they can jam their machines.
 
If you like the look of postcards with rounded corners, we recommend using them to hand out in person, in advertising kiosks, or when put into envelopes
 
Odd-shapes and sizes can create issues for USPS machinery so if your custom pieces must be processed manually, you'll pay a non-machinable surcharge for each piece. Contact the USPS for details on this type of surcharge.
Download our free standard postcard sized templates to help ensure your mail pieces are within USPS guidelines. For detailed information on how to design each different size postcard for use with QuantumDigital's Real Estate Direct Mail services, see our support article "Designing & Uploading a Direct Mail File"