Order Full-Color Booklets and Catalogs Online

Next business day turnaround on most projects

Choose from multiple paper stocks

Upload your own custom booklet or catalog design

Professionally staple bound

Create booklets from 8 to 72 pages long

---
Versatile, full-color booklets and catalogs are perfect for advertising your services to prospective buyers and sellers, highlighting neighborhoods or upscale properties, or for formal market value reports. We offer a wide range of sizes, paper stocks and finishing options for your catalog and booklet projects.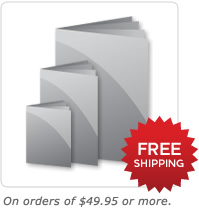 Booklets / Catalogs:
Small – 4.25" x 5.5" (8 to 72 pgs)
Medium – 5.5" x 8.5" (8 to 72 pgs)
Large – 8.5" x 11" (8 to 72 pgs)
---
Ordering high-quality booklets and catalogs is fast and easy:
Upload your own booklet or catalog design
Specify size, paper and finishing options for your custom booklets
Print and ship your order to your doorstep
---
Experience exceptional value.
We offer much more than high-quality custom booklets and catalogs. Whatever your printing or marketing needs, we offer everything consolidated in one convenient location online for you. You'll have immediate access to all of our quality products the minute you sign up for an account with QuantumDigital.
Create an account to order booklets and catalogs now.