Join us for this invitation-only workshop for select LeadingRE members.

Reserve your spot for LeadingRE and QuantumDigital's 2022 IGNITE Workshop. April 26-28, 2022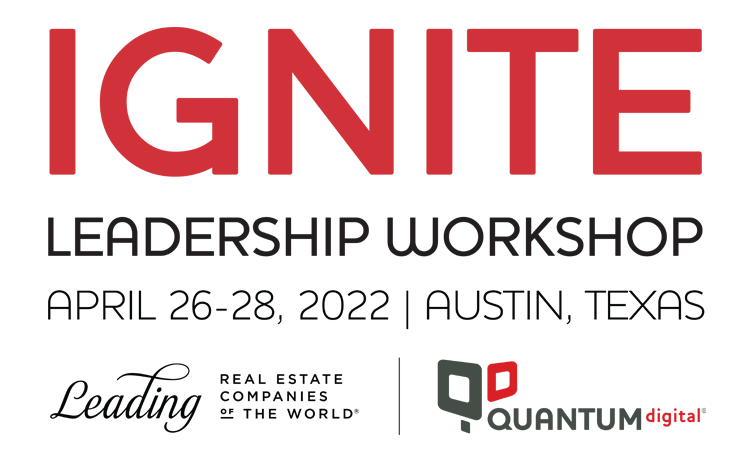 Five Ways to Future Proof Your Brokerage
You've been hand-picked to join an intimate gathering of LeadingRE leaders for an invitation-only, all-expenses-paid educational workshop in Austin, Texas. What is it?
Two powerful and informative days that will help you define (or refine) the future of your brokerage. Join author, speaker, growth expert and longtime friend of LeadingRE, Steve McKee, as he presents research-driven insights and best practices. Together we'll consider: vision, strategy, culture, leadership and sustainability.
This is a LeadingRE educational workshop hosted by QuantumDigital, not a sales presentation. No catch. What's in it for QuantumDigital? We get to show you around our facility, and keep a pulse on the industry by learning about your challenges and opportunities.

There is no cost to attend. Travel, meals, accommodations, and transportation during the event are provided by QuantumDigital. Why do we foot the bill? Just like a good agent, we invest in our brand and in our relationships. We want to get to know you and allow you to get to know us.

Attendance is by invitation only. Seating is limited to 20. What's in it for you? We understand that two days of your time is a huge commitment. In return, we're giving you something you won't get anywhere else: the uninterrupted time to reflect, plan and focus on the future. Plus, an experience you will never forget in Austin, Texas—the live music capital of the world.
Join other LeadingRE peers, QuantumDigital and Steve McKee for this exclusive, two-day workshop.
---
See what past attendees have to say about IGNITE:
---
Gain insight from one of the top business growth experts —
Steve McKee, Co-Founder and Partner of McKee Wallwork + Co

Steve McKee is the co-Founder of McKee Wallwork + Company, a marketing advisory firm that specializes in revitalizing stalled, stuck and stale brands. He is the author of When Growth Stalls: How it Happens, Why You're Stuck and What To Do About it, an award-winning business book now published in four languages, and Power Branding: Leveraging the Success of the World's Best Brands, which one notable reviewer called "the definitive book on modern branding." McKee Wallwork + Company made the Inc. 500 list of the fastest-growing private companies in America its first year of eligibility, has twice won the prestigious Effie Award for marketing effectiveness from the American Marketing Association, and has twice been recognized by Advertising Age as one of ten top small agencies in the nation and one of the nation's best places to work.
Steve is a popular columnist for SmartBrief on Leadership and has been published or quoted in The New York Times, USA Today, Advertising Age, Adweek, Investor's Business Daily and The Los Angeles Times, among others, and he has appeared on CNBC, ESPN2, CNNfn, Bloomberg TV, and network television affiliates across America.
Workshop Overview
These days it's rare for any leader to have the time to prioritize the future, on which dozens or hundreds of people depend for their livelihood. Join us for two days that will help you secure the future of your brokerage. Steve will present research-driven insights and best practice principles as we consider:
Vision
Neither fuzzy future-casting nor having a mysterious ability to see around corners, vision is the result of a disciplined process to understand the forces at work in your environment and develop a coherent North Star by which your team can navigate. We'll show you how.
Strategy
Most strategic plans are little more than dressed up wish lists. We'll discuss what strategy is and is not, and share a proven approach to ensuring your brokerage's strategy is what it needs to be to progress toward your vision.
Culture
Peter Drucker famously said, "culture eats strategy for breakfast." It's famous because it's true. We'll share the most important internal dynamics to keep an eye on and provide you with a confidential snapshot of how well your corporate culture stacks up—and what might trip you up.
Leadership
Both a task and an art, leadership is something we can all be better at. Steve will share key observations drawn from his five years as one of the most popular columnists at SmartBrief on Leadership.
Sustainability
If you're going to enjoy long-term success you need to have a long-term plan. We'll look at what you should hold tightly to, what you should be willing to change, and how to think about our own eventual transition.
Venue Information
Hotel, local transportation and meals during the event provided by QuantumDigital. Once you register, our travel coordinators will be in touch to make arrangements.
Workshop Sessions and Hotel Accommodations
The Stephen F Austin Royal Sonesta Hotel
701 Congress Avenue, Austin, TX 78701
(512) 457-8800
The workshop sessions will be held in the Assembly Room.
Technology Tour
QuantumDigital, Inc.
8702 Cross Park Drive, Austin, TX 78754
(800) 637-7373
Attendees will be guided through a technology tour at QuantumDigital's marketing facility.
Casual Welcome Dinner
Cooper's Old Time Pit Bar-B-Que
217 Congress Ave,
Austin, TX 78701
(512) 474-4227
The best of the best! Home of the Big Chop.
Social Dinner
Perry's Steakhouse & Grille
114 West 7th Street,
Austin, TX 78701
(512) 474-6300
We'll get together to unwind and enjoy a delicious dinner together in downtown Austin.
---
COVID-19 Event Guidelines
We're excited that you're interested in joining us at the 2022 IGNITE Workshop, and we thank you for coming to visit us in Austin. To mitigate potential risks due to the COVID-19 virus during our event, we'll be complying with federal, state and local requirements and host hotel policy. While masks are required in public indoor spaces at the hotel, they are not required in our meeting room (a private event space). We will have masks and hand sanitizer available throughout the event.
Our host hotel has a number of precautions in place. Read the full policy at Sonesta.com. Highlights include:  
Guests who are in areas of high or substantial transmission of COVID-19 are encouraged to wear face coverings in all indoor public spaces, regardless of vaccination status.
Face coverings are still required for individuals that are not fully vaccinated.
Guests and employees will always maintain 6-feet social distancing.
Limited-contact check-in and check-out.
Limited number of guests on all of our elevators, and guests must sanitize hands prior to riding the elevator.
Social distancing must also be maintained in all public spaces; lobby, restaurants, fitness center, and pool.
We encourage you to be cautious leading up to the event, and request that you stay home if:
You are currently experiencing, or have experienced COVID-19 symptoms in the past 14 days.
You or someone in your household has tested positive for COVID-19.
You or someone in your household is awaiting a COVID-19 test result.
You have come into close contact with anyone who is lab-confirmed with COVID-19 in the 14 days before the event.
Simply let us know and we will make arrangements to reschedule you for the next IGNITE Workshop, in the fall of 2022 or early 2023.
COVID-19 regulations, event guidelines and policies are subject to change. Thank you for your cooperation. We look forward to seeing you safely at the event!
---
Featured Past Attendees
We've had over 300 real estate leaders join us for our Ignite Workshops through the years. Here's a small sampling of featured guests: ​
Pam O'Connor, Past President & CEO: Leading Real Estate Companies of the World
Diane Turton, President: Diane Turton Realtors
Harold Crye, Owner: Crye-Leike Realtors
Elizabeth Nourse, Vice President of Marketing (fmr.): Long & Foster Real Estate
Rosey Koberlein, President & CEO: Long Realty
Jim Newell, Director of Marketing/Advertising: Carpenter Realtors
JB Goodwin, Broker, CEO: JB Goodwin
Lynn Clare, Vice President Marketing: Edina Realty
Tony Jarrett, Vice President of Operations: Allen Tate Realtors
Barry Redler, Chief Marketing Officer: Long & Foster Real Estate
Stephanie Anton, President: Luxury Portfolio International
Pandra Richie, President Corporate Real Estate Services: Long & Foster Real Estate (fmr.)
Pat Riley, President & CEO: Allen Tate Realtors
Bill Scott, SVP: Weichert Affiliates
Jodee Drake-Soto, VP, Marketing & Business Development: NP Dodge
Keith Sullivan, CMO, VP of Marketing: Crye-Leike Realtors
Michi Olson, Vice President: Alain Pinel Realtors
Dave Caveness, President & CEO: Carpenter Realtors
Jackie Alder, Director, PR & Communications: Long & Foster Real Estate
Howard Chung, Vice President: John L. Scott
Noelle Bortfeld, Chief Marketing Officer (fmr.): Windermere Real Estate
Betty Misko, Vice President: Ebby Halliday
Mark Murrell, Vice President: JB Goodwin
Phillys Brookshire, President: Allen Tate Realtors
Robin LaSure, Vice President Corporate Marketing: Leading Real Estate Companies of the World
Paula Renaldo, Chief Marketing Officer: The Keyes Company
Tammy Maddente, Vice President: First Weber Group
Mike Riedmann, President: NP Dodge
Gurtej Sodhi, CIO, EVP: Crye-Leike Realtors
Vicki Ascherl, Chief Marketing Officer (fmr.): Real Estate One
Mike Pappas, CEO & President: The Keyes Company
Kevin Durawa, CIO: RealtyUSA
John Snavley, Senior Vice President & CMO: F.C. Tucker Company
Mark Laffey, Owner & Managing Principal: Laffey Fine Homes
Claire Adams, VP Marketing: First Team Real Estate
Matthew Whitehead, Vice President: RealtyUSA
Nan Malysza, Assistant Gen. Mgr.: Buffalo Region, RealtyUSA
Helen Gray, Marketing Director: The Group, Inc.
Stephanie Brown, VP Marketing & PR: Allen Tate Realtors
---
IGNITE Workshop: Five Ways to Future Proof Your Brokerage
April 26-28, 2022
For more details, contact:
Jessica Edgerton
Executive VP of Operations | Corporate Counsel
Leading Real Estate Companies of the World®
(312) 424-0405
jedgerton@leadingre.com