Our Commitment to a Better World
Starting our company in 1986, we established that the core of our DNA is to serve others. We do this through doing our part to reduce our carbon footprint and supporting locally.
Taking care of the earth
As a mail and print company, we'll never fully remove our environmental impact, but we pursue reducing our carbon footprint daily. By being intentional and monitoring our influence on the planet, we work to be the most eco-friendly mail and print company out there (and give our customers peace of mind). These daily decisions keep our forests full and our conscience clean.

Lbs. of waste
We produce 15% less than a normal print shop

Lbs. of recycled materials
Increased by 7%/year (over past 3 years)

% of recycled content used as source materials
Up to 30% of our content is recycled materials

% of energy consumption from sustainable sources
38% is from renewable sources. Focusing on increasing in 2022

Utility Spending - money we spend on energy bills, gas, etc.
We've reduced spending by 27% (over the past 8 years)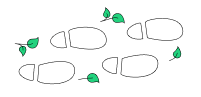 Walking the walk
We offer 100% recycled paper choices for all of our products in QuantumPostcards (paper type is 100# Matte Cover).
We choose printers like the Xerox iGen5™ that gets more output per printer, 97% of components are recyclable, and we use non-toxic ink that has a transfer efficiency rate of ~100%.
We source our paper from Verso. Verso maintains certifications like Forest Stewardship Council®, Program for the Endorsement of Forest Certification™ and the Sustainable Forestry Initiative® and makes sure raw materials are only sourced from sustainable forests in North America.
We go through our mailing lists every 30 days to check for duplicates, illegitimate, and changed addresses - we want to make sure there's no extra waste!
We give our customers tools they need to only reach the humans they want - like a Do Not Mail list and targeted demographics.
We practice on-demand digital printing. Major benefits are: uses less paper and chemicals, you only print what you need, no storage required, fewer trees sacrificed.
We actively reduce waste in our office by having a program for recycling batteries and electronic equipment, re-using paper scraps from production, having recycling bins in each department's office area, and more!

Taking care of our community
We actively try to play a part in making our community a better place to live. We do this by offering our services, materials, and financial support to organizations that serve the Austin community and beyond. Here are some places that we've been involved with: