REALTOR® Jean Marella Discusses Direct Mail Marketing Ideas
Jun 26, 2015
•
8 min read
•
Marketing Ideas
Meet Jean Marella, REALTOR® with the Spouses Selling Houses Team, Keller Williams Realty Partners. We are pleased to showcase her as our first participant in our REALTOR® Spotlight Q&A series, where we get to know her and her top tips for success in real estate.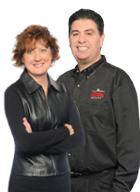 Q: About Jean Marella
A: I have been a licensed REALTOR® for the past 18 years with my husband Joe who has been licensed for 23 years. Together we are The Spouses Selling Houses Team. Our 4 person team includes ourselves plus two buyers/listing agents: Selling Chicago's Northwest Suburbs and O'Hare area for over 20 years. We opened our Keller Williams Realty Partners Franchise in Park Ridge, IL in October 2000. In Spring 2014 we bought the Keller Williams Fox Valley Realty Market Center in St Charles, IL. Joe and I have two sons: our oldest son Carl is a certified personal trainer and our youngest son Joey is a sophomore and a quarterback at Benedictine University in Lisle, IL. Joe and I both graduated from NIU, his degree in Marketing and mine in Communication with an emphasis on Radio/TV and Film. Many people tell us they could never work with their spouse – I feel exactly the opposite: It's a privilege to work with my husband every day. We have been named 5 Star Real Estate Professionals and featured in Chicago Magazine 2014 and 2015.
Q: When and why did you decide to pursue a career in real estate? 
A: My husband had been a REALTOR® for about 4 years when our children were very young.  At the time I was a Nanny to a total of 7 children (including my 2 boys) 11 hours a day 5 days a week.  His business was growing and he needed help – so I made the decision to leave my Nanny job and join him full time.  When my youngest son was 1 year old I would get up at 5:00 am to study for my real estate exams while everyone was still asleep and the house was quiet.  When our children were young my real estate hours allowed me to be with our boys during in-school and after school activities.
Q: What are the hottest neighborhoods in your area this year?
A: Our home town of Des Plaines, IL has seen a rise in home prices and shortened market times this year.  Even in the worst Chicago weather including blizzards homes are selling.  We have seen the return of multiple offers when a home meets the criteria of: location, condition and price.
Q: Where do you go / what do you do for networking?
A: My husband I never got involved in a group or organization hoping it would bring us business.  We got involved in activities because we could share many of them as a family.  Our boys are both Eagle Scouts and we were with them every step of the way.  Both our sons played football and baseball so many evenings and weekends were spent at practices and games.  Joe coached on most all the teams and we were involved in the organizations as board members.  We were also very involved at our sons' schools. We got to know lots of people that shared the same interests as we did.  I feel like people needed to get to know us and trust us on multiple levels before they would be comfortable hiring us as their REALTOR®.  I keep in contact with so many people on Facebook now.  I use Facebook Private Messenger as another source of email.  Clients have also used Facebook to contact us about representing them in a real estate transaction – or to send us referrals.
Q: What are your must-attend annual real estate conferences or events?
A: Our Keller Williams Family Reunion is an annual event.  Joe has been to 15 Family Reunions and I have been to 10.  Networking with agents from all over the country is a great opportunity.  Keller Williams was just named the #1 training company across all industries.  Agents are excited to share their success strategies during Family Reunion.  It is always an inspiring experience to spend 4 days learning from others in our Keller Williams Family. 
Q: What media outlets do you read regularly to keep up with news, trends, and advice for promoting your business?  
A: Chicago REALTOR® Magazine, REALTOR® Magazines, RisMedia Real Estate Magazine, Inman news and Keller Williams publication Outfront Magazine.
Q: What gets you most excited about working with seller or buyer clients?
A: When I am showing a house and I watch the buyers reaction I can tell that it's right for our buyer.  I see the expressions on their face change when we are in the house – I know I have to do everything I can to make it happen.  I love to make the phone call to our buyer and say – "congratulations, you just bought a home."
I get most excited to work with sellers when I can help them prepare the house to sell.  I have even met painters at the house and chosen paint colors for the owner.  The most recent time I did that – the property sold in less than a week!  Joe loves helping clients meet their real estate goals and LOVES negotiating.
Q: What is your secret for working with tough clients?
A: You have to take each client and each transaction – one at a time.  I am lucky that I have a team of agents to help me work through some tough situations.  Joe has been a great source of guidance.  He helps me cut through all the emotion and reminds me what is most important.  But my rule of thumb is to always take a deep breath and look at all the components of the situation.
Q: How do you deal with a seller prospect who is considering FSBO?
A: In the past I have had a list of all the parts of a real estate transaction that we take care of for our clients.  We often couple that with statistics on how much money a  FSBO can be leaving on the table when they inaccurately price their home.  Sometimes they have to try to sell on their own to realize how hard the process can be.  We also have conversations about safety and security when showing a home.  The internet and all the real estate scams that are happening have opened up a whole new area of concern.
Q: What's in your marketing toolkit?
A: Our websites have built in lead capture and we make every effort to make contact with everyone who registers.  Designated team members get text messages when new contacts register on our website or download our personal home search app.  Our TriggerMarketing® Just Listed and Just Sold Cards are interactive and trackable so we know who is using the websites and registration codes.  When someone logs onto the website on the TriggerMarketing Cards we get an email notification that includes the name and address of the neighbor who received the card.  We follow up with a handwritten note and 7 scheduled postcards offering information about our team, the market and selling a home.  
We have also been using our Facebook Business pages to promote our new listings and local market statistics.  We also give our Facebook followers the ability to help us choose photos for our listings and give us their opinion on features to highlight in homes we are selling.  We have also started a blog that feeds directly to our realtor.com profile.
Q: What are the top 3 marketing strategies you're implementing this year?
A: Video is a large part of our business.  We are increasing the use of video emails to communicate with our clients.  Our YouTube Channel is in a constant state of improvement.  Trackable marketing like QuantumDigital's TriggerMarketing is a huge part of our traditional mail marketing campaigns.  Increasing the interaction on our Facebook Business pages is a priority for 2015.
Q: What tools or tactics do you use to get new listings?
A: Our Pre-Listing Packet is a huge part of our success.  It is a PDF document that gives seller an overview of our team and how we successfully market properties.  Emailing a few days before we meet with the seller gives them time to read over the information and write any question they might have.  And of course, referrals from past clients and friends/family are a huge chunk of our business.
Q: What's the craziest feature you've seen in a house you sold?
A: We show a lot of houses and we see a lot of interesting things.  Our Pinterest page actually has a whole board dedicated to our "Wacky House Tours" filled with photos of fun things we have found with our clients.  I once found a dead rat skeleton years ago in a bank owned property and about a month ago while photographing a new listing I stepped on a baby bird skeleton in the basement of the home.  Not everything we find is creepy – I have used keys shaped like butterflies to unlock doors, and I found an electrical box that had Tinkerbell stickers on the outside. 
Q: What one piece of advice do you have for new REALTORS® to be successful?
A: Joe always says "If it is to be – It is up to me".. YOU are in charge of your own destiny if you choose a career in real estate.  Don't treat it like a hobby – treat it like a job and a business.  Go to work every day.  My biggest piece of advice: answer your phone and return your calls as fast as you can.
Share to: