Automated Direct Mail Solutions
Looking for ways to streamline marketing production, reduce costs, maintain brand consistency and generate leads? Consider partnering with us. We work with enterprise-level organizations to develop direct marketing automation and print solutions that offer flexibility and control.
---
Automated Marketing and Response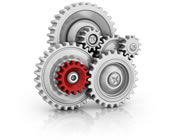 Dramatically streamline production through automated marketing and response. We can help you define triggers and processes to automate production of a single marketing communication piece or to initiate a multi-touch, multi-channel direct marketing campaign.
---
Streamlined and Targeted Direct Mail

We are the all-in-one provider for everything needed to create, deploy and track highly personalized and targeted direct mail campaigns. From design to list creation and segmentation, addressing and printing of mail pieces—all the way to introducing them into the mail stream—we provide a smooth and efficient ordering platform and fulfillment process to make it easy.
---
Schedule a Strategic Planning Session
Begin your complimentary planning session to uncover the ways we can bring efficiency and value to your business.
During your strategic planning session, we will discuss:
Your organization's current marketing challenges and successes
Ways to integrate new technologies with campaigns to improve efficiency, response rates and ROI
New direct marketing channels (mobile, web, social, etc.)
The benefits of web-to-print and on-demand digital printing
Schedule your strategic planning session now.