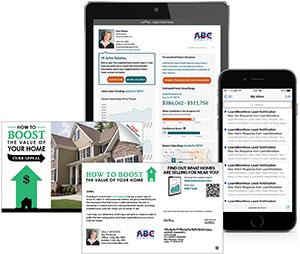 Want to stay top of mind and generate more listing leads? Our Farming program, AutoMail Plus, lets you schedule an entire year's worth of targeted neighborhood postcards in just a few clicks.
Boost Your Leads with AutoMail Plus
AutoMail Plus automatically delivers trackable leads straight to your inbox. Each postcard features a free online market report that drives your prospects online to learn more.
"AutoMail Plus is ideal for any agent or team looking to enhance direct mail campaigns or gain new leads from a specific neighborhood. Print and direct mail are far from dead. Agents who know how to use it well are still winning leads and closing listings." 
-Craig Rowe, Inman News
Get Started with AutoMail
AutoMail Plus is a pay-as-you-go service that is free to set up and can be modified at any time. Just three easy steps, and your farming is handled for the year!