Generate more listings and get noticed with direct mail.
Direct mail using customized real estate postcards is a fast, affordable, and effective way to get noticed in your farming areas and attract more leads and listing opportunities. The more listings you have, the higher your chances to grow revenue through commissionable sales.

Targeted: Direct mail advertising allows real estate agents to pinpoint likely buyers and sellers by area and/or demographics (age, income, family size, etc).

Affordable: Direct mail costs way less than advertising on TV, in magazines or on the radio.

Trackable: Direct mail's success is measurable. You know exactly how many were sent and can track how many bring in new leads and listing prospects.

Fast: Design, proof, print and mail your real estate postcards within minutes. Direct mail allows agents to save time so they can focus on what they do best.
---
Ways to use direct mail to market yourself and your properties.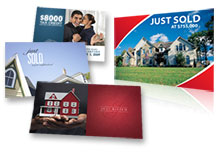 Attract new listing prospects surrounding just sold and just listed properties

Drive traffic online to listings posted on your website and/or social networks

Announce an open house, hot property or neighborhood event

Build brand awareness and forge memory of your name

Stay in touch with your sphere of influence and past clients
---
Direct mail marketing tips for success.
Great direct mail campaigns have the ability to capture a recipient's attention, get them to read and process content, commit to the message, then execute a specific call to action. Here are some tips to help make your real estate post cards marketing campaign a success.
Have a goal and target audience in mind for each campaign (right audience + right message = success)
Make an impact with a strong headline and bold imagery (get to the point, keep content and design simple)
Be simple, clear and concise with direct mail messages (use only one idea per piece)
Include a compelling promotional offer to promote responses such as a free property value assessment  (time-sensitive offers work to elicit immediate response)
Include relevant contact information such as brokerage logo, agent name, phone number, web address and links to social profiles
---
QuantumDigital makes direct mail marketing easy.
Design, proof, print and mail real estate marketing postcards within minutes:
Upload your own postcard design or use one of our free postcard templates
Customize postcards with personalized messages and photos
Upload your own mailing list or use our verified U.S. national residential list
We'll print then mail your postcards directly to your target audience's mailbox
Create an account to order direct mail postcards now.
---
Learn more about the media types and direct mail services we offer: