Direct Mail: Smarter, Faster & Measurable
We help businesses blend sophisticated technologies with direct mail in order to track delivery, collect valuable lead data and generate ROI metrics. Watch a quick video about our smart direct marketing capabilities:
Intelligent Mail® Barcodes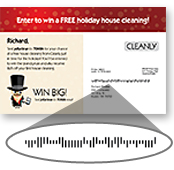 Every mail piece created in our facility is encoded with an Intelligent Mail barcode. Data contained in the barcode allows QuantumDigital and the United States Postal Service to sort, track and deliver each direct mail piece with exceptional accuracy and speed. This unique barcode also enables the sender to better estimate a mail piece's delivery window—crucial information for coordinating supporting elements of multi-channel, multi-touch integrated marketing campaigns.
---
Quick Response (QR) Codes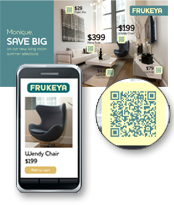 Eliminate the gap between customer response and delivery of coupons, product information, special offers, or other marketing follow-up communications. QR codes are two-dimensional, square barcodes that can store large amounts of unique data and, when scanned, can launch specific actions. QR codes not only allow consumers to immediately access coupons, landing pages, product information or other data directly from their mobile devices, they also enable marketers to collect data on consumer activity and track the effectiveness of marketing elements in real time.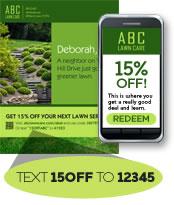 Motivate immediate response, collect real-time consumer data, and facilitate two-way communication by incorporating SMS marketing elements on direct mail pieces.
Consumers may use mobile text marketing to initiate a survey, provide feedback, access customer service and support, receive promotional offers or redeem customer loyalty rewards. Marketers benefit through real-time response metrics in addition to capturing mobile phone numbers and other information to enhance consumer data sets.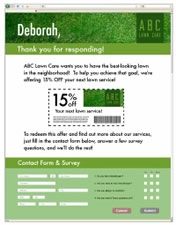 Personalized URLs allow consumers to access landing pages which contain information unique to them; a tactic that's proven to drive response. Unique codes printed on direct mail pieces may be used to deliver more information, rewards, coupons and special offers to consumers via the PURL. Visits to PURLs and use of unique codes are highly trackable and can provide marketers with real-time metrics as well as a way to enrich consumer data sets.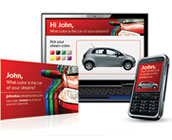 Nothing captures attention and motivates response like relevant and timely personalized communication that provides a unique experience for each consumer. Leverage database integration, variable data printing, marketing triggers and integrated multi-channel marketing—all available through a single, streamlined partner—to tell your story, motivate response and boost revenue.
---
Streamlined Direct Mail Printing and Fulfillment

We are the all-in-one provider for everything needed to create, deploy and track highly personalized and targeted direct mail campaigns. From design to list creation and segmentation, addressing and printing of mail pieces, all the way to introducing them into the mail stream—we provide a smooth and efficient ordering platform and fulfillment process to make it easy.
Benefits of direct mail fulfillment through QuantumDigital:
Save time and money by coordinating efforts through one point of contact
Reduce waste, increase efficiency and improve a campaign's speed to market
Easily target and connect with specific prospects in local market areas
Ability to personalize marketing communications through variable data printing
Ability to meaningfully integrate offline and online marketing elements
---
Schedule a Strategic Planning Session
Begin your complimentary planning session to uncover the ways we can bring efficiency and value to your business.
During your strategic planning session, we will discuss:
Your organization's current marketing challenges and successes
Ways to integrate technology with direct mail campaigns to improve efficiency, response rates and ROI
New direct marketing channels (mobile, web, social, etc.)
The benefits of web-to-print and on-demand digital printing
Schedule your strategic planning session now.