Leverage Technology and Discover More Time for Face-to-Face Meetings

May 19, 2016
•
5 min read
•
Marketing Ideas
Key Takeaways:
First, define your needs and research the best tools to support them.
Utilize real estate technology, such as marketing automation tools, to maintain your brand presence during the busy season.
Technology innovations have resulted in tools that are easily accessed using apps available on your mobile device. 

Technology advancements have changed the landscape of the task management involved in client services and lead generation, especially within the real estate industry. We're already accustomed to conveniences like web-based calendars and remote meetings, but what about the innovations that are yet to be implemented? When agents just don't have enough hours in the day, investing in new tools can allow them to accomplish more in less time. 
Inman study Special Report - How to Deliver Technology Agents Need asked agents and brokers questions about how they use technology and where they see room for improvement. Wondering what top agents are looking to adopt next? Video software, social media management, other lead generation, and customer relationship management were the top four.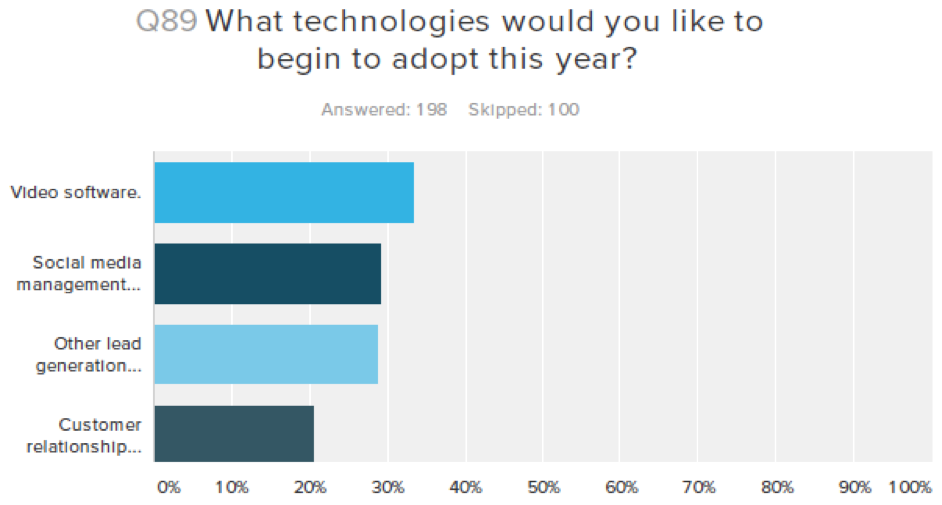 Video Software
Videos are on the rise. Inman's report identified it as one of the main sources of lead generation for real estate professionals. However, professional videos can be costly and time consuming. To create beautiful feature videos for your website, look to sophisticated software to make the product look polished. If you're using a Windows computer, you have access to the free Windows Movie Maker. Give that a try, but if you're finding it's lacking features, reference Inman's Real estate video tips: Affordable, do-it-yourself software, websites and apps make marketing fun. Looking for a mobile friendly tool to quickly post nice videos? The article suggests Videolicious, which offers paid tools specifically for agents' uses. 

Videos can visually market real estate agents by showcasing listings, testimonials, tours, and agent profiles. 

 

With a bit fewer capabilities and and lower cost, the mobile friendly Clipper allows you to clip, edit, add music, and apply other effects from your mobile phone. If you are looking to share a quick video on a social media platform such as Instagram, this simple app could do the trick.

Social Media Management
Though social media is a popular marketing tool, it can be time consuming to publish engaging posts throughout the day and perform the tasks necessary to build your social network. To help manage your social presence, Inman put together a list of 6 free social media tools for real estate:
Though these are useful tools, accessing them all separately may not be as efficient as you'd like. Paid tools, such as Sprout Social, offer most of these same services within one platform. If productivity is your main objective, investing in an all-in-one tool with a small membership fee may pay for itself in the time you save. 

Other Lead Generation
Automating on and offline marketing can ensure communication frequency is maintained even during the busiest months. Proactively planning your marketing for the quarter allows you to focus on serving your clients, knowing lead generation is taken care of. Direct mail may seem like a difficult marketing tactic to automate since it's not an internet based medium, however QuantumDigital's Automail Plus allows you to set up and maintain your real estate direct mail for the next quarter, six months, or even the entire year - all online. Your year-round direct mail campaign can support your pipeline so leads are generated even in the off-season. AutoMail Plus does more than allow you to schedule out your annual direct mail campaign. It integrates the communications with your real estate farming area by combining web, direct mail and CRM. Combine your monthly postcard farming with online lead tracking. Each postcard features a free online market report that drives your prospects online and delivers warm leads straight to your inbox.

Inman's AutoMail Plus Review:

"AutoMail Plus is ideal for any agent or team looking to enhance direct mail campaigns or gain new leads from a specific neighborhood." - Craig Rowe, Inman News 



Read the Full Review Here
 
Customer Relationship Management
The leads generated from marketing need to be fed into an intelligent CRM platform to maintain the new and old relationships. CRM tools are abundant and can be very costly. The initial investment of research into the best tool for you or your agency can also be a big project. 
Inman surveyed its audience and measured the pros and cons in deciding which real estate CRM is best. When asked, "What one piece of advice would you offer to a colleague looking to invest in a CRM solution in 2015?" the top 3 responses were:
Determine your needs before buying
Use it consistently
Use free trials
After you've determined your needs, Compare Real Estate CRM & Contact Management Software from SofwareAdvice.com is a good start to check out the options out there. Filter through the 179 systems to find what fits your criteria using their quick snapshots of rating, price range, compatible platforms, and more.

Embrace Technology
Yes, some tools are harder than others to incorporate into your day. Most social media tools are easy to implement, yet robust CRM platforms often have a long set-up process. Educating yourself on available technology can be a worthy investment when it results in more time and improved productivity. Though it can seem daunting in the beginning, the effort of getting up to speed on current technology tools will allow you to be more knowledgeable and better prepared for the next wave of innovation. Tools are advancing quickly, and expectations of what can be accomplished in a single day are rising. Do yourself and your team a favor by capitalizing on the resources that provide more time for face-to-face interactions, because that's where relationships are built and deals are closed.
Share to: