According to Realtor.com, approximately 88% of all home sellers and buyers work with a real estate agent at some point during the buying and selling process. It's not a question of whether people need or want your services - statistics say they do. It's a matter of getting your name in front of the people who want your help, and the most cost-effective way to do that is through neighborhood real estate farming. When you effectively own a neighborhood, people come to know you as a trusted authority, and naturally seek you out when they're ready to buy or sell a home. You're not likely the only real estate agent who wants a piece of that neighborhood though, so you need to make sure you stand out from the others. Farming will get you noticed, so you can own the neighborhood or community of your choosing.
A Word on Branding Before We Begin
Before you start marketing, it's essential to settle on a consistent theme to use across all of your campaigns. If you've been designing your marketing materials one at a time, start from scratch. It may help to create a mission statement, a philosophy, or written values. Settle on a few messages you want people to receive when they think of you, and build that into each piece of marketing you work on. This is branding, and as a real estate agent, you are your brand. Just as you can identify a coke can or billboard from a mile away, your brand will make you easily identifiable, too. Some things you might want to establish ahead of time for the sake of a cohesive message and brand identity include:
An easily-identifiable logo - This can be your name, company name, or a simple icon.
A professional headshot - Your face is the face of your brand, and people should recognize you while you're out and about. Include a professional headshot on your marketing materials.
A basic color scheme - Everything you create should utilize the same colors, from your website to your print marketing.
Your tone and style - Consider who you plan to market to. Should your materials sound professional, casual, affluent, or something else?
Choose a Neighborhood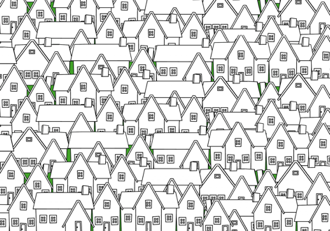 Neighborhood farming is a long-term marketing scheme, and you will need to keep in continual contact with the community. Ideally, you'll physically visit the area at least once a month, even if you don't have an existing client there. While everyone wants to seal the deal on a million-dollar mansion, if you can't be present in the neighborhood often enough to breed familiarity, your efforts will be wasted. Choose an area that's close enough to visit regularly, and that you can comfortably saturate continuously. In other words, if you're just starting out and your budget is small, aim for a close-knit community, rather than a 500-home master-planned community, so that your time and money have a greater effect.
Become a Neighborhood Expert
Although it probably goes without saying, you must also become a neighborhood expert. Some of the things you should know are listed below.
Styles of homes that are available
Average home value
How often homes sell
Schools in the area
Places of worship
Demographics and crime
Major employers
Community activities and events
Assess the Competition
In the digital age, most marketing campaigns have an online presence. You can use this to identify who is already farming the area, and what kind of approach they are using. Start with a quick Google search. Just type in the neighborhood name along with phrases like "real estate agent" or "realtor." If you're tech savvy, you can also use online tools like Google Alerts or Hubspot's Marketing Grader to find out which sites your competitors are using, and also how they're interacting with the community. Keep in mind that if someone already has the neighborhood well-saturated, it will take more time, effort, and money to break into the market. If there is little to no competition, then proceed. If not, dedicate your resources to an area where you can have a greater impact.
Target the Neighborhood on Your Website
Now that you've got a neighborhood in mind, and you know what you want to convey to the people living within it, you can start marketing. The easiest place to begin is on your own website. Start by identifying which keywords you should be using. Google's Keyword Tool is an easy and free way to identify what keywords or phrases to target. If you aren't familiar enough with search engine optimization to tackle this, it's worthwhile to bring in a professional to help you get set up. Many SEO experts will gladly consult at an hourly rate, versus signing up for a package.
Create a dedicated landing page for the community on your site. Some basic info about the neighborhood can remain static, and should be optimized. You can also have the MLS listings pulled in, and can add community RSS feeds to keep the content looking fresh. Be sure to update the static content as often as it needs it, and review it for accuracy at least monthly.
Write blog posts about the neighborhood. The purpose of the blog posts is to inform people about features of the neighborhood or events. People will naturally be funneled in from search engines if you provide useful content that doesn't directly promote your services.
Create a neighborhood mailing list and send emails. A newsletter is a great way to reach out to the community and let them know what's happening around them, and it will help keep your name at the forefront of their minds.
Become Active in Online Communities
If you used any of the online monitoring tools, you've likely already identified several websites on which the neighborhood's residents congregates. Establish accounts on these sites if you can, but don't use them to sell your services. Again, your goal should be to provide useful or relevant information to the community. This way, they begin to see you as a friendly neighborhood expert, whom they can turn to when they need help. It's also worth noting that all of your profiles should have the same profile image, for the sake of brand recognition. Keep your accounts looking as similar as possible, in content, cover photos, and other media.

One of the realtors from QuantumDigital's Real Estate Agent Survey who found farming success through online resources shared, "community farming is where it's at. I use a social networking site that is specifically designed for neighborhoods and it allows me to build relationships within the community as well. A combination of this and a direct mail campaign is how I get the majority of my listings." 
Some of the most useful places to have accounts include:
Facebook
Twitter
Pinterest
LinkedIn
YouTube
Neighborhood Link, NextDoor, and other community sites
Use Flyers and Realtor Farming Postcards to Reach People Directly
Part of an effective strategy will involve going door to door. It's better if you do it personally, so you can introduce yourself. Bring along a flyer, brochure, magnet, business card, or some kind of physical material to give to the people you meet. Postcards are also an essential part of real estate farming tools, as they enable you to reach a targeted audience quickly. Bear in mind that the more often you reach out to people, the greater your brand recognition will be, and it may take several rounds of mailings before people recognize your literature and begin to think of you as the go-to neighborhood real estate agent. QuantumDigital makes this process easy and automated with AutoMail. AutoMail allows realtors to schedule a year's worth of postcard mailings to either a specific farming area or your own mailing list.
Be sure to get printed literature into the hands of the community:
To introduce yourself initially
When you receive a new listing
When you host an open house in the neighborhood
When you sell a house in the neighborhood
​In QuantumDigital's recent Real Estate Agent Survey, respondents noted great success with postcards to showcase new listings and just sold homes within a neighborhood. One respondent said, "my best real estate marketing tip is to be consistent with marketing. The postcards are a great way to get your name out there, so this is one marketing tactic I do consistently. I have actually had many calls just from my postcards." TriggerMarketing, an automated just listed just sold postcard marketing program available through QuantumDigital, makes mail-ready campaigns simple to launch so you can spend more time meeting with people face-to-face. Automating two of the four messaging opportunities listed above can help you communicate with your farming area more frequently with relevant information, leading to additional business in the future.
Participate in Neighborhood Events
Neighborhoods often have community events around the holidays or do fundraisers and host garage sales. This is a great opportunity to go out and meet with residents in a fun and casual atmosphere. Be sure to take along some kind of marketing materials, whether it's pens, calendars, or something more. Once you establish connections, you can add them to your mail or email list. You can also find out if there's a neighborhood newsletter that you can sponsor or advertise in. Ads are still useful, but you might get more responses if you write a helpful article for the newsletter.
Take Advantage of Cross-Channel Marketing
No matter which venue you're using to market, always mention at least one other place people can find you. Links to social media profiles are expected, but you can also mention neighborhood-specific sites, like the HOA or a site like Neighborhood Link. Posting video tours of the neighborhood or its events to YouTube is easy marketing. When you share that video on Facebook or Twitter, it's bound to get shared. To lead more visitors to a video or website, you can inform them through direct mail postcards as well. Moreover, people will want to connect with you in the easiest method for them, so although one person might not want to follow you on Twitter, he might be active on your Facebook page. You can link to various sites through your main website or display the various sites on your flyers and postcards.
Consider Giveaways and Contests
One of the quickest ways to build an audience is to conduct a contest or giveaway. There are plenty of platforms for this, and you can hold contests using just one marketing channel (such as Facebook), or across several at the same time. The greater the prize is, the more entries you'll have, so go big whenever you can. It's worth networking with local business owners as well. Some of them may be willing to give you freebies to give away as part of their own marketing strategy, while others may be happy to accept your business cards to leave out for their customers. You might also benefit from greeting new businesses and residents to the neighborhood with a welcome basket. Even though a Realtor.com survey indicated that almost three-quarters of buyers planned to use the same agent again, only about one-in-four actually does. Establishing yourself as the neighborhood authority with newcomers helps secure referrals, as they're likely to tell others if they're happy with the neighborhood and they feel like they know you.
Tips for Successful Real Estate Neighborhood Farming
Be confident - You're providing a valuable and necessary service.
 
Stick with it - It takes time to saturate a market and see results. Neighborhood farming is a long-term strategy, and it won't likely make you an overnight success.
 
Be consistent - Keep sharing the same overall message, but find unique ways to do it.
 
Reach out frequently - Realtor farming postcards can be sent out with general info monthly, and more often when there's timely news to convey. Emails can be more frequent, and social media posts should be done several times a week if not daily, depending on the site and audience.
 
Think of it as networking, not sales - Your goal should be to establish yourself as an authority, by being helpful and providing useful information.
 
Make a huge deal out of open houses - Invite the whole neighborhood via direct mail postcards, social media, ads, and in online communities. Use signs and balloons to usher people in on the big day.
 
Delegate and Leverage Technology - Your time is best spent face-to-face with clients and potential clients. Take advantage of automation tools, like TriggerMarketing and AutoMail, that can make your life easier by handling direct mail. There are similar resources as well for emails, social media posts, and monitoring the web. Consider hiring a writer to create your blogs and social media posts. Have someone else do the heavy lifting with research, so you can increase your familiarity with the market and competitors more easily and quickly. 
 
Nurture your leads - Add leads generated from your TriggerMarketing just listed and just sold postcard mailings to your farming list, so they can automatically receive communications via your AutoMail campaign. Use a dedicated landing page as a sales funnel, and capture email addresses and home addresses. People who have visited it are likely looking for help buying or selling a home, and need a different kind of attention than those who chat with you in person or in an online community. You should be utilizing several email and mailing lists, and delivering unique content to each.
Neighborhood farming is time-intensive, and requires strategy, but there are tools to help and when you own a neighborhood, the results are unmatched. Each person who sees you as the go-to neighborhood real estate agent will have you in mind when they're ready to buy or sell, and they'll send friends and family your way. The more often you deliver something useful, and not sales-related, to a neighborhood, the greater you cement yourself in the minds of your past and future clients.
Looking for more ideas? Check out our real estate farming guide.