Real Estate Farming Guide for Agents, Brokers, and Realtors

Sep 2, 2021
•
4 min read
•
Marketing Ideas
A form of marketing, real estate farming, plants the seeds of future business. There is a reason real estate professionals include real estate farming as part of their marketing efforts: it works.
It's about building your brand by establishing an ongoing relationship with homeowners, so that when it comes time to sell their house, you are the one they call first.
Types of Farming
Selecting which type of farming you want to do is purely a personal choice. You'll want to thoroughly research the different types of farming and see which most appeals to you and offers the income you desire.
Geographic farming (geo-farming). Geo-farming is when you focus on a specific area or neighborhood. It could be a specific zip code, subdivision, or town.
 
Demographic farming (niche farming). Demographic farming is when you focus on a specific population demographic within an area. Examples would be first time buyers, investors, or those looking to move up or down size. Just make sure your niche is not so small that you have no market to which to sell.
Selecting the Right Real Estate Farming Area
Choose a farming area close to your home. That doesn't necessarily mean your own neighborhood, but you'll want to stay in the region. Becoming an expert on schools, medical facilities, restaurants, stores, and other local amenities will go a long way to endearing yourself to prospects.
Skip neighborhoods that have established agents. If over the past 12 months more than 25% of homes listed in a neighborhood are by a single agent, that agent has already established dominance there. Stick to neighborhoods where a single agent has no more than 15% of the listings in the previous 12 months.
Tap into some resources that allow you to find all the agents who sell in the neighborhood you're interested in farming. There are several free and paid online sites that you can use to get this information, a few are listed below.
Crunch the Numbers
Look at the previous 12 month turnover for any neighborhood you are interested in. Getting several years' worth of historical data for several different neighborhoods can provide an even more complete picture. Normally you can retrieve this information from your Multiple Listing Services (MLS) software using the ZIP code of the area you want to look at.
You'll need:
The number of houses in the neighborhood
Average home value
Average days on the market
Your standard commission
Percent of your commission owed to your broker
Total number of houses in the neighborhood that sold that year
Total number of current listings for the neighborhood
Approximate expenses required to farm the neighborhood

Here's an example that covers a 12 month period of time: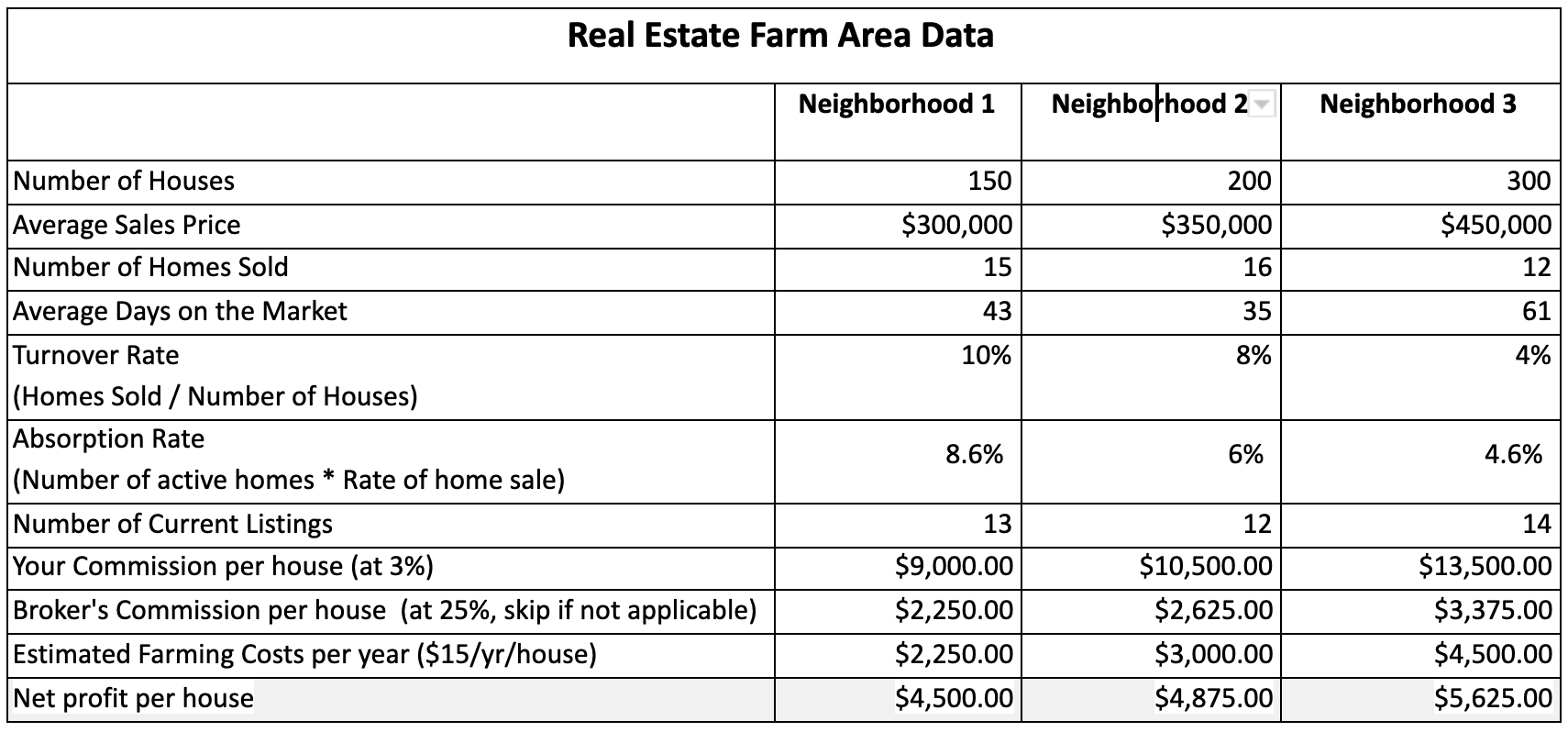 Your company may calculate certain KPIs differently; adjust your calculations accordingly.
Noted real estate coach, Tom Ferry, has stated that you should stick with neighborhoods that have a turnover rate of at least 6%.
You should also make note of the absorption rate to determine how to assess the type of market you're working with. Anything over 20% is considered a seller's market, while anything less than 15% is considered a buyer's market. This will affect how to price a home for sale.
Know Your Neighborhood
It's more than just knowing the schools, utilities, employment, entertainment, and shopping (which are all important, too). You only get one chance to make a first impression, so make sure you can confidently answer the following questions:
What is the exact property tax rate for that location? This is going to be an aggregate of city, county, school, and state property taxes. There may also be additional taxes for the area that you will need to be aware of as well, such as water districts and community college taxes. And since taxes can change from year to year, you'll want to keep up with these numbers.
 
What is the historical sales data for the neighborhood? Research the last 10 sales in the neighborhood and know their average days on the market, square footage, list price, sales price, and average price per square foot for those sales.
 
How many other houses are for sale in the neighborhood? Make sure you know all of them, have seen them, and are able to make comparisons between them.
There are several additional sites that can help you conduct predictive research for neighborhoods. Companies such as:
The more homework you do, the better armed you will be to conquer farming in a given neighborhood. You want to make yourself the expert on everything in the neighborhood. Having accurate, up-to-date answers to potential buyers' questions helps you develop a higher level of trust.
Farming Tactics to Use
You're probably already familiar with many of the neighborhood farming techniques available to real estate agents:
You'll want to get high quality, customized farming materials with a consistent message across all of them, so you can stay on top of your farm area.

Neighborhood farming is simply one method of gaining leads and should be used in conjunction with other types of marketing. Diversifying your lead generation creates the potential to have several sales pipelines and increase your portfolio and income.
Share to: