Agency Marketing Solutions
Want to know how you can satisfy your clients' needs while increasing billables and growing your bottom line? We work with agencies to develop integrated direct marketing campaigns that deliver measurable results and produce continuous revenue streams. Consider partnering with us. Our partner benefits include: co-marketing resources, product discounts, incentives, and joint marketing service and support.
---
Leverage New Tools to Improve Campaigns and Grow Revenue
Enhance your service offerings while finding ways to diversify revenue streams and increase billables. Let us help you integrate your clients' campaigns with innovative technologies designed to streamline marketing production, enhance campaign performance and deliver tighter metrics.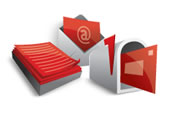 ---
Campaign Tracking, ROI Metrics and Data Collection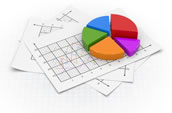 We help agencies blend these sophisticated technologies with creative to track campaign elements, collect valuable lead data and generate ROI metrics. Robust data and detailed metrics empower you and your clients to make strategic decisions toward achieving campaign goals.
---
Highly Personalized Channel-Integrated Marketing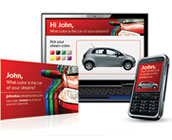 Bridge the divide between client and consumer through extreme personalization and integrated, multi-channel marketing. We can help you refine marketing messages, motivate consumer participation and effectively track responses.
---
Automated Marketing and Response
Dramatically streamline production through automated marketing and response. We can help you define triggers and processes to automate production of a single marketing communication piece or to initiate a multi-touch, multi-channel direct marketing campaign.
---
Remarkable Efficiency with Web-to-Print Portals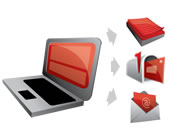 We develop white-labeled print-on-demand portals that allow agencies to easily upload, consolidate and distribute creative to clients. Based on the access settings you grant a client, they can log onto the portal 24/7 to order marketing materials — such as brochures, business cards, approved logos, presentation templates, sales sheets, and more — customize materials for local markets and print them on demand. We streamline the entire process to facilitate next business day delivery of customized pieces directly to you or your clients.
---
Schedule a Strategic Planning Session
Begin a complimentary planning session to learn more about our partnership program and uncover the ways we can bring innovation, thought leadership and value to your business.
During your strategic planning session, we will discuss:
Our agency partnership framework and its benefits
Your organization's and clients' current marketing challenges and successes
Ways to integrate new marketing technologies with creative to improve efficiency, response rates and ROI
New direct marketing channels (mobile, web, social, etc.)
The benefits of web-to-print and on-demand digital printing
Ways to boost your billables, diversify revenue streams and reduce costs
Schedule your strategic planning session now.